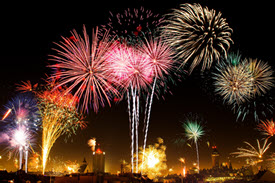 Happy new year to you, our adult education colleagues! We look forward to working with you in 2018.
In this newsletter issue, we are continuing our theme of high quality professional development (PD). In the November newsletter article Choosing High Quality Professional Development, we described HQPD as "a set of coherent learning experiences that is systematic, purposeful, and structured over a sustained period of time with the goal of improving teacher practice and student outcomes." We then listed several examples.
In this article, we'll narrow the spotlight to our blended and online PD activities. Definitions of each for the SABES system are below:
Blended PD (synonymous with hybrid PD) describes models where participants learn at least in-part and in-person at a supervised location and  at least in-part through online delivery.
Online PD describes models that are conducted wholly over the Internet. Usually in online learning, participants are at a distance from each other—in other words, are separated geographically.
Note that often the online component in blended learning is asynchronous, that is, whenever a participant has time to access it and with some control over time, place, path, and/or pace. However, asynchronous online learning may be offered within a scheduled time frame. Even when asynchronous professional development is designed to enable participants to access online learning at their convenience, presenters may assign lessons or modules that participants are expected to complete according to designated time lines or due dates. SABES' asynchronous, online PD does include time parameters, whether in weeks or months.
A synchronous online learning component occurs in "real time," where professional development presenters and participants are interacting and accessing the online content at the same time. Our webinars are examples of this type of online learning.
Thus, on our SABES calendar, you will now see the designations:
"City name" only (e.g. Worcester): PD that is is offered entirely face-to-face in that city.
"City name / Blended": part of the course will take place at a particular location, and part online.
"Online": all of the activities of this PD offering will take place online.
While PD activities held at a physical location provide benefits such as the ability to participate in hands-on, team activities with quick feedback, online and blended options can increase accessibility to high quality, rigorous PD opportunities for practitioners unable to commit to the time and expense of a day or more of travel. Through features such as videos, asynchronous and synchronous course discussions, course exercises, reflections, and diagnostic assessments, online and blended models afford the chance to refresh and extend your learning over a period of days or weeks, share and network with colleagues across the state, and to apply what you've learned in your own classrooms.
These types of blended and online models address the Massachusetts ABE Standards for High Quality Professional Development (HQPD) in particular through standards 1: HQPD acknowledges and addresses the unique context of ABE, the variety of preparation and experience with which adult educators come to ABE, and the diverse realities and needs of adult learners; 6: HQPD promotes collaboration among educators to encourage sharing of ideas and working together to achieve the identified goals and objectives; and 7: HQPD advances an educator's ability to apply learnings from the professional development to his or her particular content and/or context.
The SABES calendar has many blended and online PD offerings to choose from this winter, including those below. You can find all of our PD on the SABES calendar, and we encourage you to reach out to PD center directors if you would like more information or support to help you make the best possible PD choices.
  
Blended PD:
 Analyzing Student Work to Inform Math Instruction (Cambridge/Blended): 
Online session: begins January 12; Face-to-face session: January 19
Analyzing Student Work to Inform Math Instruction is a blended online and face-to-face short course for adult education instructors at all levels (novice, intermediate, and advanced) who are looking to improve their ability to analyze and make use of student work in mathematics. In this course, we will look at both student videos and student written work, with a stronger emphasis on the latter. Participants are encouraged to collect and bring examples of student work from their own classes to the face-to-face session. (Offered by the SABES PD Center for Mathematics and Adult Numeracy.)
Principles of Second Language Acquisition (Fall River/Blended)
Face-to-face session: January 19; Online session: begins January 19; Webinar: March 2
This three-part workshop provides you with an overview of second language acquisition theories and principles, with a focus on their application in the adult ESOL classroom. It includes a face-to-face session, an online companion course, and a follow-up webinar. The workshop is one of six based on the Massachusetts Professional Standards for Teachers of Adult ESOL. (Offered by the SABES PD Center for English for Speakers of Other Languages.)
Peer Coaching for New Teachers Project
(Ongoing)
This multi-year, research based blended learning PD activity equips ABE and ESOL teachers with the skills and knowledge to become effective induction coaches for new staff at your program.  This third cohort for the Peer Coaching for New Teachers Project began in September 2017 with ten hours of face-to-face professional development.  Throughout the remainder of this academic year, each of the peer coaches for new teachers is receiving monthly coaching sessions by the coordinator of this project.  In addition to the coaching sessions, there are three webinars that the induction coaches attend to continue to deepen their knowledge. The Blackboard learning management system is used to house all resources and a discussion board is available for the new teacher peer coaches to use. (Offered by the SABES PD Center for Educational Leadership and Strengthening ABE Programs.)
Online PD:
No Books, No Problem: Free and Open Access to Learning Resources (Online)
Begins January 22
Do you want help finding free and open-access textbooks, lessons, quizzes, videos, activities, and articles to make your lessons more engaging? In this self-paced, lightly facilitated online course, you will have opportunities to explore and use fresh, relevant, and cost-effective teaching materials for your adult learners. Build on others' ideas, and discover shared education resources that you can use as they are or adapt for your class. (Offered by the SABES PD Center for ABE Distance Learning and Technology Support.)
SMARTT/Cognos Update: Reviewing Midyear Data (Online) 
Begins January 31
This course includes both asynchronous and a synchronous elements, all online. The training includes two parts:
Part 1 is an online asynchronous course done at your own pace. It covers typical data that need to be examined at mid-year: attendance percentage, NRS cohort, assessment reports, and EFL tracking.
Part 2 is a live webinar that is held during the times on the date shown. The live webinar will cover recent updates to SMARTT and other important news.
(Offered by the SABES PD Center for Using SMARTT and Cognos.)
Navigating Pathways to Opportunity: Comprehensive Student Supports (Online)
Begins February 19
Navigating Pathways to Opportunity prepares advisors, coaches, and college and career navigators to provide the comprehensive supports students need to successfully transition to career pathways, integrated education and training, and postsecondary education. In this course, you will learn strategies for identifying and engaging your adult learners' aspirations, addressing barriers, and building a comprehensive network of support to promote persistence. (Offered by the SABES PD Center for Education and Career Planning.)
PD Center
SABES PD System Communication Center