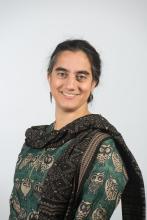 Short bio
Lakshmi Nayak is the coordinator of the SABES English Language Arts Curriculum & Instruction PD Center, where she coordinates the logistics, content, materials, and outreach for ELA PD. She updates the ELA portion of the SABES website and maintains the ELA center's blog, Reflect & Connect: The Reflective Practitioner.
In addition to ensuring that the College and Career Readiness Standards for Adult Education for ELA (CCRSAE-ELA) are infused throughout the ELA PD offerings and resources, Ms. Nayak has adapted some of the College and Career Readiness Standards-in-Action trainings into Critical Friends for ELA, supporting focused analysis on assignments and student work in relation to the CCRSAE-ELA, and is at work on further adaptations. She has developed and presented workshops at MCAE Network and at COABE on Science and Social Studies.
Ms. Nayak brings over 25 years of helping people of all ages to explore knowledge, skills, and connections to the world around them in multiple ways, including teaching adult basic education classes in several subjects, coaching university students through cross-cultural internships from M.I.T. to India, teaching middle school science and writing in Roxbury, and teaching English Language Learners in a 4th grade class in Lowell. She entered adult education through Bridge Over Troubled Waters in Boston, where she tutored individual students preparing for the GED. She then taught for six years in another Boston adult education program, and currently teaches an evening Adult Secondary Education (ASE) science class at the Cambridge Community Learning Center.