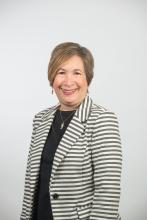 Short bio
Merilee Freeman is the Massachusetts STAR state coordinator and the director of the SABES PD Center for ELA. She holds a Master's Degree in Education for Learning Disabilities, and has been working in the field of education for over 30 years, beginning her career by teaching bilingual and ESOL classes to K-3 students.
Merilee taught workplace literacy for 14 years at TJ Maxx. She joined the SABES Center for Central Massachusetts in 2001, where her varied responsibilities included being a curriculum assessment coordinator and a nationally certified STAR trainer.
Merilee supports and provides STAR trainings for Massachusetts to this day. She recently participated in the Beta testing for national STAR's new online training.