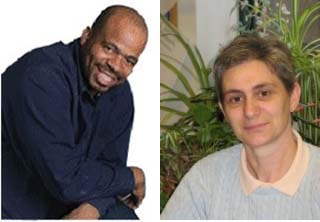 Adults who are seeking to improve their basic skills or English language ability are deserving of our strongest praise and support. They are individuals who have chosen to improve themselves so that they can improve the lives of their family and community members.
Andre Norman
When I was in 3rd grade I was deemed illiterate and put in the "dummy class". It didn't get much better from there and unfortunately I paid more attention outside of the classroom hanging on the streets of Boston than in my classes. I was born to a father who spent time in prison for drug dealing and a stepfather who spent time in prison for bank robbery. Illiteracy, an absent father, and lack of role models led me down the path taken by so many urban black youth — criminality and incarceration. Convictions for armed robbery and armed home invasion put me behind bars for a long long time in both state and federal prisons. In jail I actually got worse. I quickly became a prison gang leader. I was transferred all over the country from prison to prison because they could not handle me, and I didn't care.
It wasn't until I was put in solitary confinement for the last time that I had the realization that this was not all I was. I was the only one who could make a change in myself. I asked myself, "Who are successful people?" A person who attends college and gets a good education was the answer. I decided then I would make that my focus. I'm from Boston and when I thought of what college I would set my goal for, Harvard University came to mind; that's where all the successful people seem to be from! I started GED classes and it was not easy, and it was frustrating, and I wanted to quit. But then what? I'd be back in a place I started?!? I met a Jewish Rabbi who became a huge mentor. He didn't want to reform me, he just let me sit with him while he taught, and I attended counseling to get my head straight.
My teachers came in many forms and still do. From educational instructors to mentors, if you look you will find them. My teachers were patient and didn't want anything more out of me than for me to be what I wanted to be. I graduated with my GED, I made a change, and got out in 14 years.
When I was released in November 1999, it was a long road but I persevered. I walked out of jail and into every institution where I thought I would find a teacher/mentor to keep me focused. I enrolled in community college and eventually was accepted into Boston College. I have lectured at Harvard Divinity School, Northeastern University, Tufts, and MIT to name some local educational institutions. I have spoken all over the world from Barcelona to Saudi Arabia to the Dominican Republic as an internationally recognized motivational speaker, lecturer, advocate for youth education, and trainer for those incarcerated and those who incarcerate.
My message to you is this: I never accepted a handout but I accepted a hand-up. Your future success is up to you — WHY NOT YOU? There will never be a change unless you make a change. Re-program yourself to focus on who you want to be. The past is the past. The present will pave the road of your future; lay those bricks.
Ruzica Banovic was born in Bosnia.
This is Ruzica's story. Originally, I'm from Bosnia. I arrived in the United States eight years ago with my husband and my two children. Not only myself, but my husband as well as my children had to work very hard and adjust their lives to this new life. No matter what background, in my case accounting, from the beginning on I knew that English would be the Key to a better future and success.
It was a very challenging and demanding time. I've taken many ESL and computer classes and while working the midnight shift doing kitchen prep work at Logan Airport. Through the ESL classes I was able to move on with my life and leave the night job. I had improved my English and computer skills and stepped up to an assistant position in education department at the International Institute of Boston. Being with this agency I have seen how many people have struggled with low English proficiency and have realized how much Adult Education means to them.
Now I have made another step forward, in my current position as the administrative assistant at the Massachusetts System for Adult Basic Education Support. I'm very proud to be a part of this great team which helps the Adult Basic Education field to equip adult learners and to develop their language skills in order to be able to find a job on their own, pursue citizenship, and contribute to the cultural, political, and economic richness of this society.
PD Center
Partner Resources & Events page