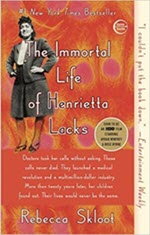 "The Immortal Life of Henrietta Lacks: An Introduction to Jim Crow and the Great Migrations" is a CCRSAE-aligned unit based on a complex, non-fiction text. It is designed to be challenging for learners at GLE 6-8. EBRI vocabulary and comprehension exercises are included. The lessons can be adapted or extended to accompany other teaching about the topics that are covered.
The Immortal Life of Henrietta Lacks, by Rebecca Skloot, tells the story of a poor, under-educated black woman whose "…cells became the first human cell line that could grow and divide endlessly in a laboratory."  Research using her cells contributed to development of the polio vaccine, and many other medical advances. Around the world, research using her cells continues today.
The book details the process by which Henrietta's cells were taken, without explanation or consent. It narrates the extended, largely unthinking interactions between a mostly white medical establishment and Henrietta's black family. It lays bare a conflict of cultures and the consequences for the unequal partner in that conflict.
In this unit we examine the historical context for the Henrietta Lacks story—the Jim Crow south of Clover, Virginia, and the family's migration (as part of the Great Migration) to Turner Station, Maryland.
The story of Henrietta Lacks introduces students to some of the historical context for the Black Lives Matter movement. It personalizes labels like Jim Crow and discrimination. The unit provides a ready platform for looking both forward and back, and for considering many of the sign-posts that got us to where we are today.
*   *   *
The unit level documents are listed below the lesson plans and final project links. Be sure to read the unit overview, and use the assignment tracker to help students stay on top of the multiple assignments.
This unit was created between 2015-2019, under the auspices of ACLS and the SABES ELA C&I PD Center. The unit commentary was written in June 2020, and is also posted at the ELA blog, Reflect & Connect.
Head to our Curriculum page for other units and curricular resources.
*   *   *
HELA Lesson 1
HELA Lesson 2
HELA Lesson 3
HELA Lesson 4
HELA Final Project
Topic Area
Antiracism
CCRSAE (College and Career Readiness Standards for Adult Education)
Curriculum Development
ELA
EBRI (Evidence-Based Reading Instruction)
Social Studies
STAR (STudent Achievement in Reading)
PD Center
SABES English Language Arts Curriculum & Instruction PD Center