The Communication Center serves as the communication coordinator for the SABES PD Centers. Housed at Education Development Center, Inc., it is managed by Heidi Larson (hlarson@edc.org). 
Stay tuned for more information!
Communication Center: Upcoming Events
05/24/2022
The 2022 MATSOL Virtual Conference brings together educators of English Learners from across the Commonwealth of Massachusetts -- and beyond...
Communication Center: Videos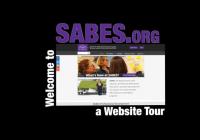 VIDEO
|
Communication Center
View this video for a tour of the SABES website. (SABES)
Topic:
New Staff, SABES / ACLS
Communication Center: Resources, Research and Curriculum
Focuses on classroom conversation and how it helps (and hinders) student development
Tools to develop individual or program awareness about causes of racial equity and strategies to address and shift patterns of inequity in their work...
The Fall 2021 SABES Newsletter is hot off the press and ready for your viewing! This issue's theme is You are here for your Students -- SABES is here...
Communication Center: Our Team