The Communication Center serves as the communication coordinator for the SABES PD Centers. Housed at Education Development Center, Inc., it is managed by Heidi Larson (hlarson@edc.org). 
Stay tuned for more information!
Communication Center: Videos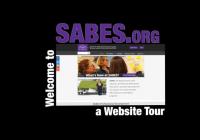 VIDEO
|
Communication Center
View this video for a tour of the SABES website. (SABES)
Topic:
New Staff, SABES / ACLS
Communication Center: Resources, Research and Curriculum
The Spring 2022 SABES Newsletter is hot off the press and ready for your viewing! This issue's theme is: The Journey to Inclusive Practice -...
Developed by Facing History and Ourselves, these lessons are designed for middle school and high school students. They include guidance for getting...
The New York Times has compiled this collection of writing prompts, lesson plans and activities to teach and learn about race-related issues.
Communication Center: Our Team