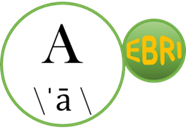 Overview
Alphabetics is one of "the essential components of reading instruction" that WIOA requires be incorporated into instruction. In this 6-hour online course, learn about effective, appropriate instructional strategies and activities and create a short alphabetics lesson that corresponds to your learners' decoding levels. (Note: STAR training includes Alphabetics, so STAR-trained practitioners do not need to take this course, but can choose do to so as a refresher or to extend their practice to this GLE range.)
Audience

This professional development activity/course is designed for:

Practitioners teaching reading to adults at GLE 0-3.9
Description
EBRI, evidence-based reading instruction, is a set of practices, grounded in research and professional wisdom, for teaching the four essential components of reading (alphabetics, fluency, vocabulary, and comprehension) to adult learners. This PD offering focuses on Alphabetics, and consists of six PD hours of online modules and a practicum.
The online modules contain videos, embedded readings, and quick skill checks of the content and learning objectives, and may be accessed at any time once the course opens.
After completing the modules, participants will create a short alphabetics lesson and submit it to the instructor for review and input.  The deadline for submission is Friday, January 17, 2020. This course is asynchronous: you may choose to complete the six modules and submit the lesson all in the first week in December, or complete one module per week and then the lesson, as long as you meet the January 17, 2020 deadline.
The course will remain open for two more weeks, through Monday, February 3, 2020, during which time the instructor will provide feedback, and participants will be invited to converse with their course colleagues on the discussion board.
Completion of all requirements will earn 6 PD hours. While this training is not eligible for PDPs by itself, it may be bundled with other EBRI opportunities to earn PDPs.
Learning Objectives

Upon completion of this professional development activity/course, you will be able to:

Explain the following terms: alphabetics, phonological awareness, and phonemic awareness.
Identify effective, appropriate instructional strategies and activities for teaching phonemic awareness, phonological awareness, and phonics.
Create a short alphabetics lesson using the strategies and activities identified above, and the "Steps in an Alphabetics Lesson" presented during the course. The lesson should include EBRI techniques, with activities corresponding to the learners' decoding levels as identified during diagnostic assessment.
Presenter(s) / Facilitator(s)
Prerequisites
Overview of EBRI
Diagnostic Assessments of Reading
See the ELA events page for current dates and registration information.
NOTE: Previous completion of or current enrollment in the STAR training fulfills these requirements.
Location
Online (BlackBoard)
United States
PD Center
SABES English Language Arts Curriculum & Instruction PD Center
Topic Area
ABE/Adult Education
ELA
Evidence-Based Reading Instruction (EBRI)