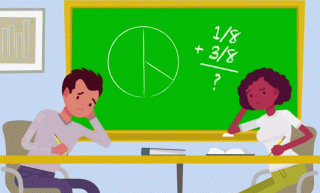 Overview
Both teachers and students often report that the hardest thing to teach and learn is FRACTIONS. There are so many rules to remember and none of them seem to make sense. By building a solid conceptual understanding of fractions, teachers and students can understand those rules instead of memorizing them. Fractions don't have to be a source of frustration and anxiety!
Researchers interviewing community college students found that they had a lack of conceptual understanding that had "by the time they entered developmental math classes, significantly impeded the effectiveness of their application of procedures. And application of procedures is, without concepts and a disposition to reason with them, all that students have left to go on" [Givvin, Stigler, & Thompson, 2011, p. 14]. While this research was conducted with students in developmental math classes, this same issue applies to learners in our programs.
Audience

This professional development activity/course is designed for:

All teachers involved in adult numeracy instruction (though it's not necessary to be currently teaching a math class to fully participate)

Instructors at all levels of math comfort are encouraged to enroll
Description
In this course, you will deepen your understanding of the meaning of fractions through a series of hands on activities and visual explorations. You will learn to develop your own non-routine fraction questions to guide your students to a deep and full understanding that will serve them well as they continue to work with fractions throughout their math education. You will also learn the reasoning behind all those fraction procedures students memorize in school and ways to teach them that allow students to develop conceptual understanding and procedural fluency at the same time.
Making Sense of Fractions is a virtual course composed of pre-webinar prep work, two live webinars (2 hours each) and two online modules. Participation in the online modules involves reading assigned materials and participating in online discussions and activities. The total completion time is approximately 16 hours. The course schedule is as follows:
Week 1 (Oct. 19-25)
Participants receive and complete pre-work packet #1.
OPTIONAL virtual drop-in help session on 10/21 from 1-3pm.
Week 2 (Oct. 26-Nov.1):
Live webinar #1 on Oct. 26 from 1-3pm
Online module #1 opens
Week 3 (Nov. 2- 8)
Participants receive and complete pre-work packet #2.
Week 4 (Nov. 9-Nov.15)
Live webinar #2 on Nov. 9 from 1-3pm
Online module #2 opens
Week 5: All assignments are due on Monday, Nov. 16
To receive a certificate of completion, participants must complete all assignments, both online modules, and attend both webinars. Those wishing to earn PDPs must complete an additional project. For more information, please contact Sherry Soares (sherry_soares@terc.edu).
For more information, watch our short video on the course.
Please note: About one week before the first webinar, registrants will receive a separate email from sherry_soares@terc.edu from the SABES Math Team at TERC with instructions on how to access via Zoom. 
Learning Objectives

Upon completion of this professional development activity/course, you will be able to:

Make connections between different representations of fractions
Solve and create non-routine problems involving the meaning of fractions
Estimate with fractions using benchmarks
Use different visual models to understand fraction operations
Presenter(s) / Facilitator(s)
PD Center
SABES Mathematics and Adult Numeracy Curriculum and Instruction PD Center
Topic Area
ABE/Adult Education
Blended Learning
College and Career Readiness
College and Career Readiness Standards for Adult Education (CCRSAE)
Distance Learning
ESOL/English Language Learner
High School Equivalency (HiSET/GED)
Learning Disabilities
Mathematics and Adult Numeracy