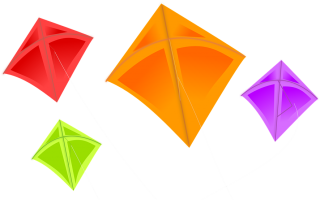 Overview
Geometry ideas surround us everywhere we look. Unfortunately, it has been a topic reserved for the back of too many adult education workbooks when it could be explored using engaging hands-on activities and visuals. In this 90-minute virtual workshop, we will bring geometry front and center with ideas versatile and engaging enough for both adults and children. We'll also take a look at sample geometry questions similar to what students might see on the HiSET.
Audience

This professional development activity/course is designed for:

Adult education teachers at all levels of math ability and comfort
Description
Prior to the virtual workshop over Zoom, participants will try a family-friendly kite-making activity. During the workshop, we'll briefly touch upon the cultural relevancy of kites before diving into more concrete paper-folding activities that can help develop formal angle measurement concepts in adult education students. A deeper understanding of these concepts and how to explain them using visuals can help adult students increase their own knowledge while they learn ways to teach young family members, too.
To make learning geometry more equitable for your students, participants will be introduced to research by Van Hiele on levels of understanding geometric concepts.
Participants will also receive PDF copies of two packets that explore angles, one for designed for adults and one for families.
Learning Objectives

Upon completion of this professional development activity/course, you will be able to:

Create do-it-yourself angle measuring tools
Make generalizations about the angles in a triangle through a hands-on investigation
Connect conceptual angle understanding to test prep questions
Presenter(s) / Facilitator(s)
Date
11/16/2020 - 10:30 am to 11/16/2020 - 12:00 pm
PD Center
SABES Mathematics and Adult Numeracy Curriculum and Instruction PD Center
Topic Area
CCRSAE (College and Career Readiness Standards for Adult Education)
Family Literacy
High School Equivalency (HiSET/GED)
Learning Disabilities / Differences
Mathematics and Adult Numeracy