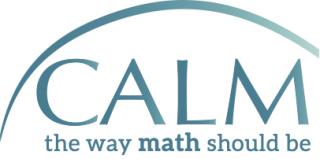 Overview
This course is designed for teachers who are using or want to use the Curriculum for Adults Learning Math (CALM). CALM was created by the SABES Mathematics and Numeracy Curriculum & Instruction PD center to give teachers a full, rich, conceptually-based curriculum. CALM teaches conceptual understanding of skills from roughly College and Career Readiness Standards for Adult Education (CCRSAE) levels B – E (GLE 3-12) and contains thorough unit plans, lesson plans, and supporting materials. Because CALM is different from traditional curricula, it is important to understand its structure and philosophy to be able to use it effectively. This course will introduce you to the logistical elements of CALM and its guiding principles.
To obtain access to CALM and to use it effectively, teachers will need to complete this introduction and are strongly encouraged to attend the ongoing live online CALM Support sessions after completing or while doing this course to experience what CALM activities feel like and how they build deep and long-lasting understanding. Teachers who already use CALM can also benefit from this course as a refresher.
**This event is open to Massachusetts teachers only.**
Audience

This professional development activity/course is designed for:

All adult education practitioners who are using or want to use CALM
Limited to instructors and staff from Massachusetts adult education programs
Description
This asynchronous, self-paced online course consists of seven learning modules. It is possible to work through all modules in one sitting, but we encourage you to complete one module at a time, in order to carefully reflect on your own personal experiences vis-à-vis what you've learned in each module. The estimated time to complete this course is four hours. All modules and the evaluation must be completed to receive a certificate of completion on credit in the LACES system. You will have three weeks from the start date of the course section to complete all requirements.
The modules are:
Module 1: How CALM is Different from Traditional Math Teaching
Module 2: The CALM Philosophy
Module 3: The Scope & Sequence
Module 4: Concrete, Representational, Abstract
Module 5: Assessment
Module 6: Using CALM
Module 7: Course Closure
Please note: About one week before the event, registrants will receive a separate email from sherry_soares@terc.edu from the SABES Math Team at TERC with instructions on how to access the course. 
Did you know? CALM professional development may be bundled to receive Professional Development Points (PDPs). Learn more here.
Learning Objectives

Upon completion of this professional development activity/course, you will be able to:

Explain to students how CALM is different from a traditional curriculum
Articulate how CALM builds concepts developmentally over time
Explain how CALM implements the three components of rigor
Visualize fractions with manipulatives
Understand the structure and guiding principles of CALM
Locate, access, and navigate CALM documents
PD Center
SABES Mathematics and Adult Numeracy Curriculum and Instruction PD Center
Topic Area
CCRSAE (College and Career Readiness Standards for Adult Education)
Distance and Blended Learning
High School Equivalency (HiSET/GED)
Learning Disabilities / Differences
Mathematics and Adult Numeracy
New Staff
SABES / ACLS