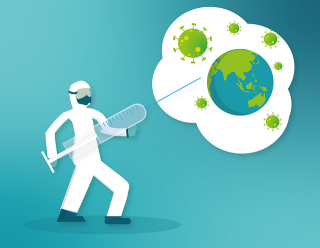 Overview
This session will introduce materials for teaching adult students about vaccines via remote instruction. The materials include four lessons designed for intermediate level (Pre-ASE) learners. These integrated lessons were designed to give students the historical, scientific, and math background knowledge to understand and make informed decisions about COVID-19 vaccines. Participants will receive all of the lesson materials.
Audience

This professional development activity/course is designed for:

ABE and pre-ASE teachers at all levels of math ability and comfort
Description
This workshop will introduce the vaccine lessons and focus on the mathematical content (probability, including fractions and percents) relevant to teaching lessons about understanding risk and herd immunity. Participants will have the opportunity to experience and reflect on some of the activities from those lessons.
Please note: About one week before the event, registrants will receive a separate email from sherry_soares@terc.edu from the SABES Math Team at TERC with instructions on how to access the Zoom session. 
Learning Objectives

Upon completion of this professional development activity/course, you will be able to:

Identify the background knowledge students need to navigate information about COVID-19 and other vaccines
Identify factors involved in evaluating risk
Teach benchmark fractions and percents as part of a lesson about probability
Run a simple probability experiment in the context of health risks
Use a computer simulation model to teach the concept of herd immunity
Presenter(s) / Facilitator(s)
Date
10/05/2022 - 3:00 pm to 10/05/2022 - 4:30 pm
PD Center
SABES Mathematics and Adult Numeracy Curriculum and Instruction PD Center
Topic Area
CCRSAE (College and Career Readiness Standards for Adult Education)
Digital Literacy
Distance and Blended Learning
ELA
Learning Disabilities / Differences
Mathematics and Adult Numeracy
Science
Self-Paced Monthly Offering
Off