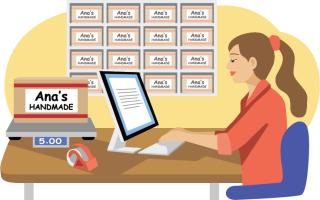 Overview
How do I decide if something is "worth it"? How do I plan something really big? How do I use math to make decisions? 
These are some of the essential questions in the Be Your Own Boss cross-curricular unit of instruction. To create the unit, we interviewed adult students who are also business owners and recorded them talking about their business decisions. These student voices frame lessons on topics about managing a business and marketing their products or services, as well as the finances of owning a business. The lessons place a heavy emphasis on student decision-making as an individual or as a future business owner.
* Attendees will be given access to the 10-lesson Be Your Own Boss unit. *
Audience

This professional development activity/course is designed for:

All adult education practitioners, including those teaching HiSET/GED Prep, pre-HSE classes, and intermediate/advanced ESOL classes
Description
Research is a big part of making an informed decision. The Be Your Own Boss unit scaffolds digital literacy expectations and experiences for students, all within the Be Your Own Boss context. In early lessons, students find an answer to a specific question. In subsequent lessons, students begin searching for answers to more open-ended questions and evaluating and organizing information. Included with the unit are materials to use in classes in which internet access is unavailable, as well as ideas for different digital literacy experience levels.
In this session, you will experience a sequence of activities from the unit and see how the activities are scaffolded to help students grow toward becoming better researchers and more digitally literate consumers. 
Please note: About a week before the event, registrants will receive a separate email from the SABES Math team at TERC (sherry_soares@terc.edu) with instructions on how to access the Zoom session. 
Learning Objectives

Upon completion of this professional development activity/course, you will be able to:

Describe a way to prepare students to use technology to research—even if students don't have a computer or internet in your class
Describe a scaffold system to support students reaching a digital literacy goal and what it looks like to remove the scaffold when digital literacy is built
Consider how the Be Your Own Boss unit could support your students' digital literacy
Presenter(s) / Facilitator(s)
Date
10/28/2022 - 2:00 pm to 10/28/2022 - 3:30 pm
PD Center
SABES Mathematics and Adult Numeracy Curriculum and Instruction PD Center
Topic Area
CCRSAE (College and Career Readiness Standards for Adult Education)
Digital Literacy
Education and Career Planning
ESOL/English Learners
High School Equivalency (HiSET/GED)
Immigration
Mathematics and Adult Numeracy
Workforce Development
Workplace Education
Self-Paced Monthly Offering
Off