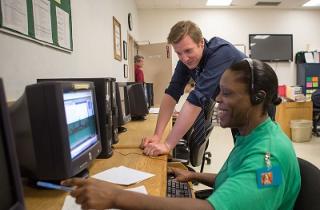 Overview
In response to requests for more customized support for educators who work in corrections settings, these meetings provide opportunities for teachers and others to share effective corrections-specific and corrections-accessible digital literacy tools, resources, and strategies. 
In this meeting, we will focus on ways to effectively and realistically implement the digital literacy-related Massachusetts Indicators of Program Quality (IPQs) in correctional settings, and specifically IPQ Standard 5.3: Instruction intentionally uses a variety of technologies to develop students' essential digital literacy skills including: finding, evaluating, consuming, creating, organizing, communicating, and sharing digital content. 
If you work in a correctional facility and would like to be included on the Digital Literacy Sharing Group for Corrections mailing list and consider joining meetings, please fill out this brief form to let us know what support would be helpful to your practice.
Questions? Contact Diana Satin: dianarsatin@gmail.com 
Audience

This professional development activity/course is designed for:

Classroom and computer teachers, coordinators, directors, and those in other positions in correctional facilities who are involved with digital literacy services

Description
Meeting topics are selected by the group. Some topics the group has discussed include Northstar Digital Literacy Assessment; whether it's more effective to teach digital literacy embedded within class content or in computer classes; testing; products such as Secure Books, and more. 
This is a sharing and support group, so please come with your questions, ideas, and/or resources you and your students recommend.
About this PD:
This sharing and learning group meets for one hour every other month by webinar to enable staff from across the state to exchange practices, resources, and questions. (Phoning in to the webinar is an option.)
Note: We will be meeting via Zoom, and Diana Satin will send you information and the link for joining online a few days prior to the meeting.
 
Presenter(s) / Facilitator(s)
Date
12/08/2022 - 2:00 pm to 12/08/2022 - 3:00 pm
PD Center
SABES Program Support PD Center - Digital Literacy
Topic Area
Corrections
Digital Literacy
Distance and Blended Learning
Self-Paced Monthly Offering
Off