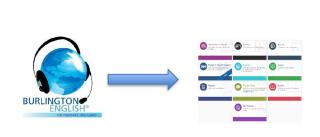 Overview
Why is BurlingtonEnglish a good option for your students? Join this session to learn about BurlingtonEnglish's fully blended, comprehensive curriculum; their innovative and individualized speech-processing; and their training platform that meets every English language learner's need. You will also learn how to access free, DESE-funded BurlingtonEnglish seats for your program and students.
If you need assistance or have questions about this training, please contact kathleen_oconnell@worlded.org. Once you register, Kathleen will send you a follow-up confirmation email with instructions on how to access the Zoom session.
Audience

This professional development activity/course is designed for:

DESE-funded program teachers and designated individuals who are not current BurlingtonEnglish users and are interested in learning about the courses and features available to them in the BurlingtonEnglish platform
Description
Learn about BurlingtonEnglish's comprehensive curriculum for adult learners, which focuses on rigorous academic preparation, civics knowledge, career readiness, and technology integration at all levels and areas of instruction. CCR and ELP Standards are incorporated into the Burlington curriculum at every level to provide a foundation for academic rigor. Burlington's blended curriculum is designed to be used by teachers as an instructional tool and by students for additional reinforcement, in or out of the classroom. Attendees will learn about the variety of courses offered and how to choose the appropriate course based on their and their students' learning goals. 
Following the workshop, you will be able to  contact Ticiana Coleman at Ticiana.C@BurlingtonEnglish.com or (774) 366-6861 with any training questions you may have.
Learning Objectives

Upon completion of this professional development activity/course, you will be able to:

Access free BurlingtonEnglish seats for your program and students
Identify features of the BurlingtonEnglish curriculum and other resources that would be beneficial for your students
Identify BurlingtonEnglish teacher access and support features
Explore available on-demand, self-paced, and virtual trainings
Presenter(s) / Facilitator(s)
Prerequisites
This session is specifically designed to address opportunities for DESE-funded programs interested in obtaining BurlingtonEnglish licenses and integrating BurlingtonEnglish into their program instruction.
Date
12/14/2022 - 1:00 pm to 12/14/2022 - 2:30 pm
PD Center
SABES Program Support PD Center
Topic Area
Career Pathways
CCRSAE (College and Career Readiness Standards for Adult Education)
Civics and Citizenship
Digital Literacy
Distance and Blended Learning
ESOL/English Learners
MassSTEP (IET / IELCE)
Workforce Development
Workplace Education
Self-Paced Monthly Offering
Off