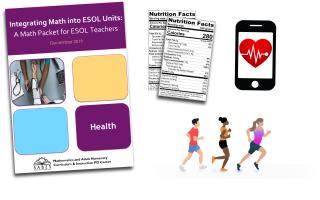 Overview
A limited number of stipends are available for piloting this course and providing written feedback. Please email sherry_soares@terc.edu for details.
ESOL classes teach English in contexts that are relevant to students' lives, including health, shopping, and employment. Contexts such as these are also rich with opportunities for students to improve their math understanding and improve their language by talking about their mathematical thinking. By teaching students the math in such health topics as heart rates, nutrition, and exercise, we prepare them to better navigate these areas in their lives, both mathematically and linguistically. 
Audience

This professional development activity/course is designed for:

ESOL teachers of all experience levels who work with intermediate-level students
Math teachers with ELs in their intermediate math classes
Description
In this course, you will experience activities from the five-lesson unit packet, Integrating Math into ESOL Units: Health. (Participants will receive access to the full packet as well.) The lessons in this packet provide ready-to-use math activities that can be incorporated into an ESOL unit on the topic of health. You will deepen your own conceptual understanding of reasoning about ratios and rates, represent your reasoning using words, expressions, tables, and graphs, and use multiple tech tools that enhance both in-person and virtual classes.
This is a seven-part, blended course composed of three synchronous online facilitated workshops (1.5 hours each) and four online course modules. Participation in the online modules involves reading assigned materials and participating in online discussions and activities. To receive full credit, participants must complete all course assignments and attend all live workshop meetings. The total completion time is approximately 8 hours.
The course schedule is as follows:
Week 1 (Jan. 11–17)
Self-paced online modules Getting Started and Heart Rates open
Week 2 (Jan. 18–24)
Synchronous online workshop #1: Heart Rates (Jan. 18 from 1:00-–2:30 p.m.)
Self-paced, online module Nutrition and Proportional Reasoning opens
Week 3 (Jan. 25–31)
Synchronous online workshop #2: Nutrition and Proportional Reasoning (Jan. 25 from 1:00-–2:30 p.m.)
Self-paced, online module Graphs and Exercise opens
Week 4 (Feb. 1–8)
Synchronous online workshop #3: Graphs and Exercise (Feb. 1 from 1:00-–2:30 p.m.)
Self-paced, online modules Course Wrap Up and Course Closure
About one week before the course starts, registrants will receive a separate email from sherry_soares@terc.edu from the SABES Math Team at TERC with instructions on how to access the course in Moodle and the live meetings via Zoom. 
Did you know? This professional development may be bundled with other math workshops and courses that serve to enhance instruction for ESOL and EL learners. Please contact Sherry Soares (sherry_soares@terc.edu) to receive additional information about Professional Development Points (PDPs).
Learning Objectives

Upon completion of this professional development activity/course, you will be able to:

Deepen your conceptual understanding of proportional reasoning
Engage in hands-on activities that you can use in your teaching practice
Explore ways to integrate contextualized math topics in an ESOL health unit
Experiment with educational tech tools to enhance teaching and learning
Presenter(s) / Facilitator(s)
PD Center
SABES Mathematics and Adult Numeracy Curriculum and Instruction PD Center
Topic Area
CCRSAE (College and Career Readiness Standards for Adult Education)
Digital Literacy
Distance and Blended Learning
ESOL/English Learners
High School Equivalency (HiSET/GED)
Mathematics and Adult Numeracy
Self-Paced Monthly Offering
Off