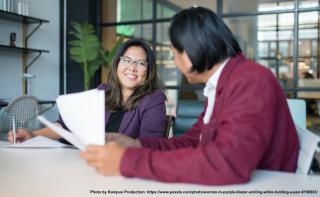 Overview
Formative assessment is the ongoing work of understanding how your students are understanding what you are teaching. While there are many ways to do formative assessment, one that is often readily accessible is looking at student work. There is a lot that can be learned by analyzing how students illustrate or describe their thinking—more than just a tally of what they got right or wrong. Formative assessment informs your instructional decisions so that your teaching can meet students where they are and help them move forward.
Audience

This professional development activity/course is designed for:

ABE and HSE teachers at all levels of math ability and comfort
ELA and ESOL teachers
Description
In this 1.5-hour online workshop, you will learn a frame for analyzing student work and practice using it with real examples of student work. You will also learn about content knowledge for teaching and how it differs from other kinds of math content knowledge. Although this workshop focuses on analyzing students' math work, you can apply the techniques in ELA and ESOL assessment as well. You will leave with strategies for using student work to make instructional decisions and ideas about how to continue your professional learning.
Please note: About one week before the event, registrants will receive a separate email from the SABES Math Team at TERC (sherry_soares@terc.edu) with instructions on how to access the Zoom session.
Learning Objectives

Upon completion of this professional development activity/course, you will be able to:

Use the DEN process (Describe, Evaluate, Next Steps) to analyze student work
Distinguish content knowledge from content knowledge for teaching
Presenter(s) / Facilitator(s)
Date
11/29/2023 - 1:00 pm to 11/29/2023 - 2:30 pm
PD Center
SABES Mathematics and Adult Numeracy Curriculum and Instruction PD Center
Topic Area
Assessment
Curriculum Development
Learning Disabilities / Differences
Mathematics and Adult Numeracy