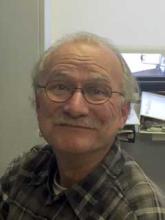 Bio
Carey Reid coordinates the SABES Program Support PD Center's ABE Teacher's License professional development team and work. He believes deeply in the power of the ABE Teacher's License to strengthen practitioner knowledge and practice. He is one of MA's leading ABE Teacher's License experts and was among the first in MA to earn it.
Carey's career in adult education spans 40 years, having worked as an instructor, researcher, program director, and professional developer. He is a member of the National Cadre of Student Achievement in Reading (STAR) trainers, is a certified Learning to Achieve trainer, and worked on the original Adult Reading Comprehension Study (ARCS) research project.
Carey currently also teaches citizenship test preparation at the Stoughton Public Library. In 2017, he was recognized for his exceptional service to the field of adult education with the MCAE Lifetime Achievement Award.