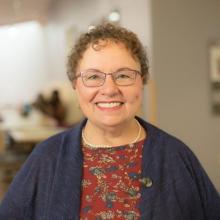 Bio
Professor Emerita, Lesley University Graduate School of Education Cambridge, Massachusetts
Dr. Carlo's professional practice and research are centered in the fields of multicultural education, bilingual education, equity, diversity and social justice. Throughout her professional academic career, her primary focus has been on multicultural introspective teacher preparation and the development of a culturally responsive educational professional practice. At Lesley University, she has also collaborated on, and delivered professional development projects for core and adjunct faculty, with special attention to aspects of racial, cultural and linguistic diversity. From 2014-2017, she co-chaired, with the University Provost, the Task Force for Social Justice in Teaching and Learning, a university-wide committee charged to develop a strategic action plan for creating an intentional, systematic, and comprehensive culturally relevant curriculum.          
As a multicultural and diversity consultant, Dr. Carlo has a lifetime of experience working with both private and public organizations to deliver culturally proficient services to children and adults spanning the breadth of cultural, racial and gender identities. From 2001 - 2012, she was the primary multicultural adviser and educational consultant on various children's projects and programs at WGBH-TV in Boston, including Zoom, Arthur, and the Emmy nominated, Postcards from Buster.  In 2001, she developed a Pilot Course on Teaching for Diversity for adult basic education practitioners for the Massachusetts Department of Education and the System for Adult Basic Education Support (SABES).  She is also a consultant for ChangeWorks, Inc., in Boston, Massachusetts.
Vivian is currently the chair of the governing board of Greater Egleston High School in Boston, and has served on several other boards, including the Welcoming Schools Initiative National Advisory Board, a project of the Human Rights Campaign;the advisory board ofPeacework Magazine, published by the American Friends Service Committee; and the Board of Directors of the National Association for Multicultural Education (NAME).  She is a founding member and past president of the Massachusetts Chapter of NAME.
 In 2005, Community Change, Inc. of Boston awarded Vivian the "Drylongso Award" – given "to ordinary people doing extraordinary things to combat racism and other forms of oppression." Other awards include the Ansin Intercultural Research Fund Award, and the Boston University Women's Guild Award.      
Vivian holds a doctorate in Multicultural Education and Bilingual/Bicultural Education from Boston University and a master's degree in Counseling and Psychology from Lesley University.