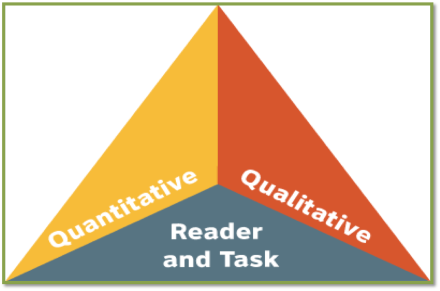 Selecting texts for adult learners involves:
Analyzing text to ensure it is at the appropriate complexity level (based on diagnostic assessments of learners' reading levels)
Ensuring that texts are appropriate for adults in topic and presentation
Organizing texts in a unit or text set so that they work together to build background knowledge on a topic or develop understanding around a specific idea
Analyzing for Text Complexity and Appropriateness
Text complexity refers to the cognitive challenge the text presents to the reader. Briefly, identifying the complexity of a text incorporates three kinds of analysis:
Quantitative Analysis: Use quantitative measures to assign a text to a grade ban [see TextCompare, Juicy Studio, Lexile Framework, Intervention Central, Readability Calculator, Readability Formulas]
Qualitative Analysis: Use a rubric to analyze the complexity of a text
Reader and Task: Use your professional judgment to decide how suited the text is for this task (a specific instructional purpose) with these readers (i.e. the students in front of you, rather than generic students)
For more: CCSSO Resources for Navigating Text Complexity
Organizing Texts
Text Sets are curated and sequenced readings and resources, often with accompanying activities, that support learners in building knowledge on a specific topic over time.
Finding Texts for Adult Learners
Texts that adult learners read for instruction should be at an appropriately complex level and relate to the unit topic. Care should also be taken to ensure that the presentation of the text, even if oriented towards children (e.g., through pictures, language) can still speak directly to adults without condescension.
Find Leveled Readings at:
See additional sources for texts at ELA Connections.
Topic Area
CCRSAE (College and Career Readiness Standards for Adult Education)
Curriculum Development
ELA
Science
Social Studies
Media Type
Document
Website
PD Center
SABES English Language Arts Curriculum & Instruction PD Center