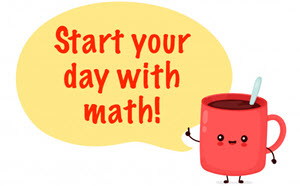 The SABES Mathematics and Adult Numeracy Curriculum & Instruction PD Center is managed by the Adult Numeracy Center at TERC. Our center provides high-quality professional development (PD) so that teachers can better help adult learners understand how math is present and relevant in everyday life, and how learners can use this knowledge to improve their own lives and communities. 
FEATURED RESOURCES _______________________________________________________________________________________
Looking for information on the Curriculum for Adults Learning Math (CALM)? Visit the CALM website.
UPCOMING MATH & NUMERACY EVENTS ___________________________________________________________________________________
To register, visit the SABES Calendar.​​​
APRIL
MAY
May 2﹣22 CALM Introduction (self-paced online course) REGISTER HERE
May 3﹣23 English Learners in the ABE Math Classroom (self-paced online course) REGISTER HERE
May 9  Building Algebra from Early Geometry Concepts (online facilitated) LINK COMING SOON
May 17 & 24 Will This Be on the Test? (online facilitated series) LINK COMING SOON
May 19 BeCALM Multiplication: Remote-Ready Curriculum for Beginning Math Learners (online facilitated) REGISTER HERE 

 
•••••••••••••••••••••••••••••••••••••••••••••••••••••••••••••••••••••••••••••••••••••••••
Summaries of all the PD workshops and courses we are able to offer can be found here. Contact our Center if your program would like to request a specific event.
•••••••••••••••••••••••••••••••••••••••••••••••••••••••••••••••••••••••••••••••••••••••••
Here are some of the many other services we offer:
Resources: Recently posted resources appear on this page under Math: Resources, Research, and Curriculum. Find resources by using the search box located at the top of this page, by selecting the Resource Library link at the top of this page, or by going directly to one of our curated collection pages:

Research, including effective teaching practices
Standards, including our Overview, which illustrates how standards develop across levels
Curriculum, including sample instructional units*
Instruction, including teaching ideas for LD students and lessons from Statistics in Action
Resources for remote instruction, including tips on how to use them in math classes

News: Check for news under Math: What's New, and select Sign Up for Notifications to arrange for email alerts about newly posted news, resources, and PD opportunities.
Our blog: Check out the monthly blogs, written by our team and by teachers who have worked with our PD Center.
Contact us: Would you like to bring math PD to your program, suggest a resource, or ask a question? We're here! Contact our director, Heidi Schuler-Jones, at heidi_schuler-jones@terc.edu, or email adultnumeracy@terc.edu.
Math & Numeracy: Upcoming Events
Math and Numeracy: Videos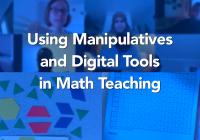 Two adult education math teachers talk about using manipulatives and digital tools in remote math teaching.
Topic:
Mathematics and Adult Numeracy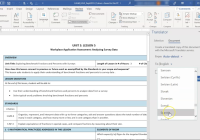 To see this video in a larger window, click here.
Topic:
Culturally Responsive and Sustaining Teaching, Digital Literacy, ESOL/English Learners, Mathematics and Adult Numeracy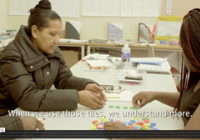 In this video, adult English learners talk about the kind of math instruction that has helped them understand and retain what they have learned in math class.
Topic:
ESOL/English Learners, Mathematics and Adult Numeracy
Math & Numeracy: Resources, Research and Curriculum
This resource is a practice brief on effective instructional practices and examples for teaching math to English learners (ELs) produced by the U.…
This collection includes a printable teacher's guide and student packet that can be downloaded below as Word documents or PDFs. The math content…
CURRICULUM Beginning Curriculum for Adults Learning Math (BeCALM) Remote-Ready Curriculum for Beginning Math Students (GLE 2–4) series This…
Math and Numeracy: Our Team
Professional Development Specialist